At the beginning of lockdown (back in March, 2020), the Swiss pianist, Simone Keller wrote an open call for ideas, scores, sketches that involved the use of the three E's in her name, to celebrate her 40th birthday. In answer to her open call, I sent a postcard piece with my own realisation of it made by 9 recordings of my playing the violin, and arranged them in canon. This canonic arrangement resembles the postcard itself: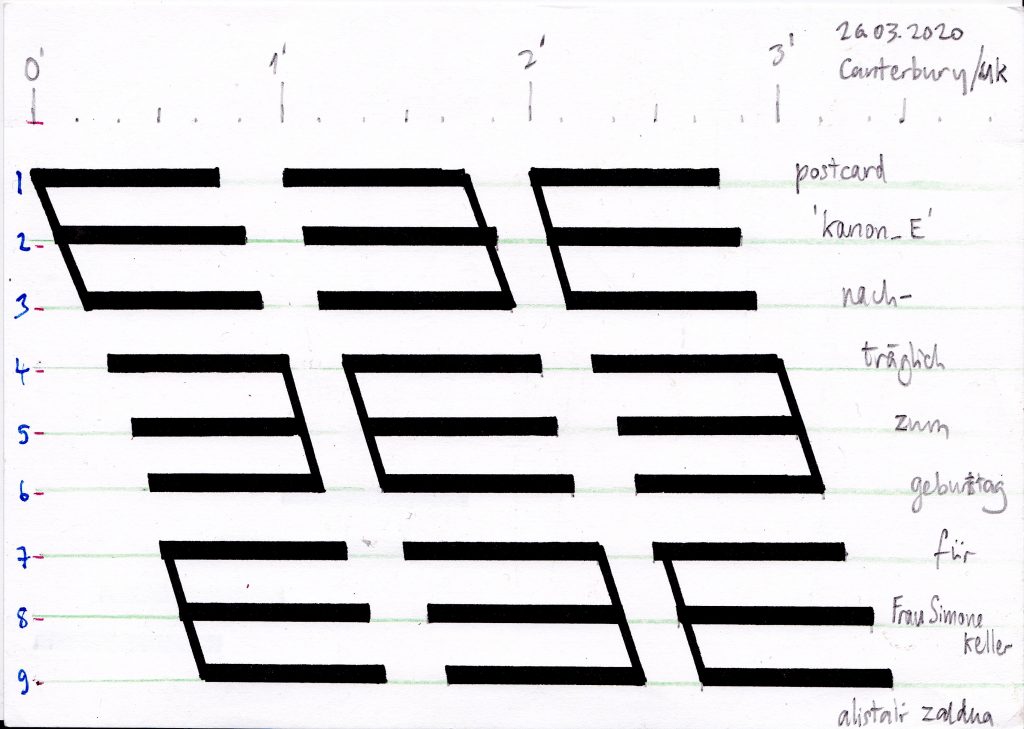 This link takes you to the recording of my initial realisation for Simone, the postcard piece became a birthday card. I have since realised this piece in a much larger format for multiple violins for my upcoming album scheduled for release later this month. The relatively short process of completing this short postcard and its sonic realisation provided the impetus and inspiration to develop an album specifically for multiple violins, that would address the theme of the short-format postcard piece work. I have written about this previously here.

Simone Keller is a highly accomplished and innovative solo pianist and is not only active with the Kukuruz Quartet, but also plays with  Ensemble TZARA,  Trio Retro Disco, and the quintet Trabant Echo Orchestra. Although written in German, here is a portrait of Simone Keller and her work. Simone recently wrote to me to announce her taking part in a 3-day Festival at the Moods Jazz Club in Zurich. She has collaborated with the Swiss sound artist Marcel Zaes.Zaes constructed a wooden box called the E-Box that plays the contributions sent to Simone Keller for her birthday! The E-box will be on display throughout the duration of the festival that lasts from Friday 2nd October until Sunday 4th. Simone wrote a post describing the festival and the installation on Facebook a few days ago.
I have known Simone's work as part of her piano quartet Kukuruz. In 2009 I conducted mathias spahlinger's work for seven pianos farben der frühe and I became aware of the Kukuruz quartet around that time. Soon after I completed my own quartet for two pianos and percussion, brumaires—the first performance of which took place at the festival Usine Sonore in Malerey/Bevilard (also in Switzerland)—I moved back from Karlsruhe, Germany to live in London.