For our contribution to this years Tectonics Glasgow Festival, Lauren Redhead and I were in Glasgow recording a concert for BBC Scotland, at the City Halls in Glasgow, with the following program:
The electronics consisted simply of 4 filters and playback programmed to either change at specific times throughout (as in my piece) or use static settings to add colour and resonance. This was especially effective for Giant Silver (Bonaventure), and the interactive nature of mixing these filters live also allowed me to respond to the acoustics in the concert space at City Halls. This was also the first occasion where I performed on my amplified NS Design 5-string e-violin, (Morgan and Redhead). Previously I've performed on an acoustic (4-string) violin using a Fishman pickup attached, however with the 5-string the extra C-string provides a welcome mid-bass range for this work, and as an improviser.
My short work …rain of stars was developed during a concert tour Lauren and I undertook in 2014, promoted by Sound and Music. On returning to this piece I realised there were still a few loose ends, hence the need for small revisions: the version for Tectonics Glasgow is the most recent and final version. There are 2 'development versions' documented on the Bandcamp album of the 2014 tour:

The last time Lauren and I performed in Glasgow was as part of Automatronic, for a small chamber concert at the Scottish Music Centre in 2016. Automatronic is a composer's collective consisting of Michael Bonaventure, Huw Morgan, Lauren and myself. We performed on a Portable continuo Lammermuir organ, hired especially for us from the Dunedin Consort. For our Tectonics concert Lauren performs on the very same instrument. So it was only fitting that on our return to Glasgow, each member of Automatronic was represented by their recent work.
Huw Morgans' multilayered work, Fault, originally written for fixed media and 2 organs, uses a more traditional notation. In my interpretation I was able to pull around the temporary and expressive aspects of it; there is a certain degree of translation needed to render the 2nd organ part as a violin part convincingly. I hear and understand the constituent sounds and parts as inhabiting very different expressive locations. We have performed Fault once already at the Canterbury Festival in 2018, a recording of which can be heard here: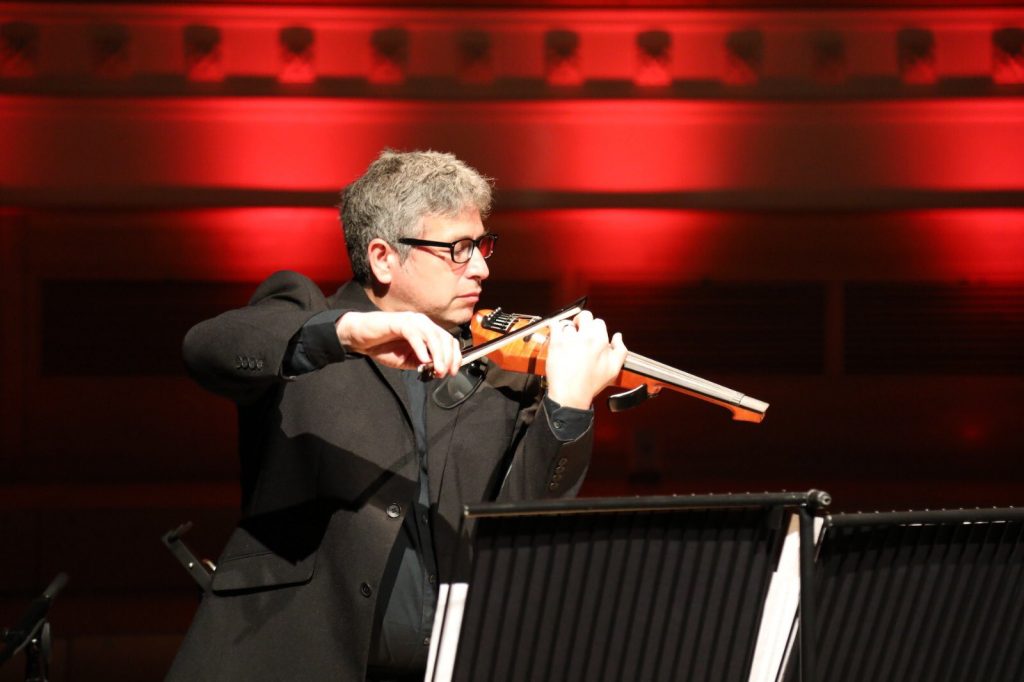 Performing in the City Halls with the team from the BBC was a complete privilege for us both. Andrew Trinnick, Head of Artistic Planning and Production at the BBC, welcomed us and oversaw our recording; the team hired in a very refined sounding amplifier (the AER Compact 60) for the e-violin. The whole process of recording our performance couldn't have been made more uncomplicated and relaxed; there was enough time and space to discuss the whole mix and to explain the details of our approach to the sound engineers. We were so fired up that the moment of performing in front of an empty hall — as if it were a public concert — that I can only describe this experience as unique and creatively intense.
We are both extremely excited about this year's Tectonics Glasgow Festival, both with our involvement and with hearing work by composers, sound artists and performers we hold in highest respect. The whole program has been excellently curated by Ilan Volkov and Alasdair Cambell and I sincerely doubt there will be a single dull moment this weekend. Tectonics Glasgow can be heard by following this link, the concerts begin at 4pm (UK time) tomorrow (Saturday, 8th May) and continue until late into Sunday 9th. Our performance will be broadcast at 8pm (UK time) on Sunday 8pm. The whole festival will be available to listen to at any time for a month after broadcast.